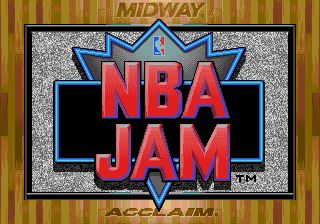 If you grew up in the 1990s, then you probably remember a game called NBA Jam. Remember? Who am I kidding? You loved that game, and so did I. So the question today is: What would the teams be like now if there was an NBA Jam 2009 Edition? Before we get started, there are some ground rules. First off, we will be doing it like the original arcade edition, which means only two players per team with no subs. Also, we will be taking into account not just who is best, but who would probably be in the game for other reasons (marketing, etc.). We will do the Eastern Conference today and the Western Conference tomorrow.
Just to recap what made up the best squads, the teams that were traditionally best were the ones that combined a big man who could defend and block shots and a 3-point shooter who could get steals. The four player rating categories were speed, 3 point shooting, dunking, and defense. With some help from my buddy Scotty, here are your 2009 Eastern Conference NBA Jam teams (Current for today's roster, not taking into account any injuries):
Boston Celtics: Pierce and Garnett
This would be a great team. Garnett is the dominant dunking and defensive player who can also hit the occasional 3. Pierce can score from anywhere on the court.
New Jersey Nets: Jianlian and Carter
I know I know, it should be Devin Harris instead of Yi. But those Asians love their video games and you would have to think they wouldn't pass on the opportunity to sell more games. This team is fun because Carter's dunking ability, but probably not that great a team. What's the bigger market, Jersey or China? Enough said.
New York Knicks: Harrington and Lee
Just like in real life, this team makes me want to vomit. Oh and they would suck. Knicks fans are holding out for NBA Jam 2k10 with Lebron James and Stephon Curry.
Philadelphia 76ers: Iguodala and Brand
This team would be average. Brand can defend the paint and block shots. Iggy's dunking ability is through the roof, but without the ability to consistently hit 3s, this team is not one of the elite.
Toronto Raptors: Bargnani and Bosh
This reminds us of the Charlotte Hornets from the original game. Two big men that are decent in all categories. That being said, they are the poor man's Hornets, since Bargnani is no Larry Johnson. Also, how much defense would this team play? About as much as the Raptors do in real life.
Chicago Bulls: Rose and Deng
This might be the worst team in the game. Neither can shoot 3s, neither can defend the paint well. They both have decent speed and dunking, but that isn't enough. Sound familiar?
Cleveland Cavaliers: Ilgauskas and James
This would be an elite team. Neither one would be knocked down easily. Both players can shoot and defend. You have to assume Lebron would have almost perfect scores in most categories. This team would be tough to beat. This would be one of those teams where you try to have Lebron take every shot.
Detroit Pistons: Iverson and Wallace
Sheed would take care of business. He is a big man that can shoot the 3 and block shots. AI would be all speed, but he would get pushed around much like Stockton did in the original game. This could work, but not a top-tier team.
Indiana Pacers: Murphy and Granger
Is there a slower team in the game? No need to explain this one, but it would be bad.
Milwaukee Bucks: Redd and Bogut
This was a tough one. We could have gone with Jefferson over Bogut, but the traditional big man/small man combo won out here. This team would not be great, but with Redd shooting the lights out, they would make it interesting.
Atlanta Hawks: Johnson and Smith
This would be a very tough team to beat. This team would have speed, shooting, defense and dunking. Is there anything else? No? No one would want to play against the Hawks.
Charlotte Bobcats: Okafor and Wallace
This team is actually far better than you would expect from the Bobcats. They still wouldn't be good, however. The lack of 3 point shooting in this game is almost impossible to overcome.
Miami Heat: Wade and Marion
You would think that without a big man or a pure shooter that this team would struggle, but you would be wrong. This team would be fast, strong and a great power-dunking team. Don't underestimate them.
Orlando Magic: Lewis and Howard
There is an argument to be made that Lewis, Turkoglu or Nelson could all be paired up with Howard. We went with Lewis because of his lights out 3 point shooting. Howard would dominate the paint defensively and be able to dunk from anywhere inside the 3-point line. This team is definitely one of the best.
Washington Wizards: Arenas and Jamison
Are you in the mood to shoot half court shots the whole game? Then this is your team. They wouldn't be able to defend anyone, but they would be fun to play with.
Remember this: