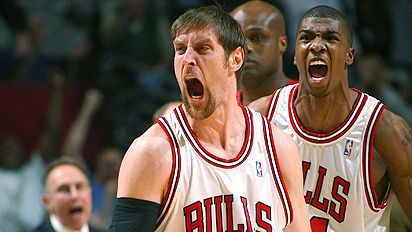 Obviously I don't think that, and neither does most of the universe. We here at NQTC, however, are not always swayed by intangible things and feelings we get from watching the games. We also like to look at stats sometimes (and by "We" I mean "Me" since StevieY19's belief in a crazy concept called "clutch-hitting" is nearly dogmatic). This may come as a shock to most of you, but according to
BullsByTheHorns
:
Based on NBA.com's Lenovo Plus-Minus Stats – wait, I'm sorry, make that their AutoTrader.com Plus-Minus Stats – the Bulls are +71 points this season when Chapu is on the floor, making him much better than Rose (-127), Gooden (-64), Deng (-62) and Gordon (-11), not to mention Joakim Noah (-11), Larry Hughes (-33), Thabo Sefolosha (-36) and Tyrus Thomas (-98). The only player who comes close to Noc is Kirk Hinrich (+54), and only Demetris Nichols (who has appeared in two games this season) is the only other Chicago player on the plus-side of the ledger
(+13).
Now, according to 82games.com, Nocioni ranks 23rd in the league in Net Points Per 100 Possessions at +10.8. Not only does that number place him ahead of high-profile guys like Chris Bosh, Shaq, Dwight Howard, Brandon Roy, Kobe Bryant, Paul Pierce, etc., it makes him by far the top player on his own team. The next closest Bull, Joakim Noah, currently ranks 72nd at +3.0. For the sake of comparison, Rose is way, way down the list at -9.4.
Ok, so these crazy metrics show that Nocioni and Noah are the best players on the Bulls. Obviously I don't agree with that, but what are we comparing them to? Noah may be the best option at the 5 competing with Gray and Gooden, who are slow and a natural 4 respectively. It is possible the team plays better overall with Noce in the game, though for limited stretches he is extremely frustrating. Obviously Rose is the best player on this team, and his low +/- is a reflection of the fact that he has been on the court a ton of minutes and the Bulls have a losing record.
By the way, check out the site
BullByTheHorns.
Its a new Bulls blog written by a co-writer of Deadspin and Basketbawful, two great sites.