Earlier this season Mushin Muhammad said that Chicago was where receivers went to die. Now I would expect that most actually go to Florida, Southern California, or Arizona like all other people, but no receivers come to the Windy City and find success. That is for sure.
While Lloyd, Davis, Hester, and Booker seemed like they could get the job done early in the year, things are
looking a whole lot different
now. Lloyd went down with an injury and the fact that no one has noticed that he is back tells you how effective he has been. Davis might as well be running his routes in the stands, and Booker just isn't that good. Hester has made some big plays recently and is clearly the best of the bunch right now, but there are still moments like Sunday night where the ball hit him in the chest while he wasn't looking. He's still a punt returner that plays wide receiver.
Honestly, the situation with the wide receivers should shock no one. They aren't good players and Orton is not the type of quarterback who can make mediocre players look great. Plus, when have the Bears ever had a great receiver?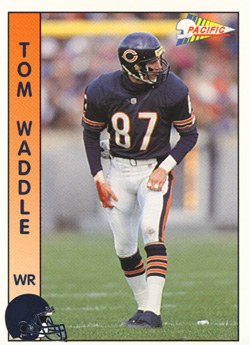 Willie Gault was pretty sweet, at least from what I could gather playing Tecmo Bowl. Booker was a good receiver when he was here the first time and Tom Waddle was a fan favorite, but Booker was the only one of those to make the Pro Bowl, and he did it once. There are some older names like Johnny Morris, Harlan Hill, and other guys who played shortly after the forward pass was invented, but what the hell happened?
There were busts, like David Terrell, and guys who seem to have some success elsewhere such as Bernard Berrian, Justin Gage, and Bobby Engram. Plus, some guys like Hester, Earl Bennett, and even Davis still have a chance to raise their game and become viable NFL receivers. Also, to be fair, the Lions have poached just about every wide receiver prospect coming out of college recently.
Even with all of those points though, where are the receivers? Name me one other team that has gone through a drought similar to what the Bears have now at wide receiver. Someone will probably think of something, but I cannot. Oakland has been bad there for a while, but they had Tim Brown, the Bucs had Keyshawn, the Titans used to be the Oilers and they were sweet at wide receiver.
If the defense is not going to be dominant force for the Bears, they will need a passing attack to have a chance. Olsen could be on his way to becoming a good tight end, but either through free agency, or the draft the Bears are going to need to get themselves a good wideout.