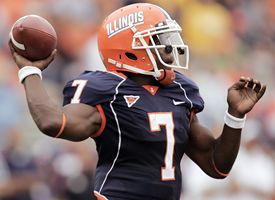 Illinois started Big Ten play with a loss at Penn State and followed it up with an impressive win at Michigan. Going in to this past Saturday, the Illini had only two losses and they were both to top ten teams, with neither loss coming at home. A lot of people thought the Big Ten champ would have at least one loss, giving fans hope that a second straight trip to the Rose Bowl was a possibility.
Then Minnesota rolled into town and spoiled homecoming with an improbable upset, sending Illinois to 1-2 in the conference. So what kind of chances do the Illini have after the upset?
Penn State and Ohio State are the favorites right now, with 3-0 records in the league, but with a head-to-head game in two weeks, at least one of them will get a loss. Other than Ohio State, Penn State's schedule looks pretty good. With Michigan coming off a terrible loss and Penn State a huge win, this week could be a potential scare with PSU looking forward to Ohio State, but Michigan has shown no evidence that it is good enough to win and the Nittany Lions haven't beaten Michigan in about six Joe Pa injuries (9 games), so they'll be focused. A finale against MSU is Penn State's only other test.
Ohio State plays at Michigan State this week before the game against Penn State and really don't have any gimmes on the schedule with games at Northwestern, at Illinois, and the rivalry game with UM to end the year.
For now, it doesn't seem like MSU is a real contender just because of their history of fast starts and embarassing finished, but you never know. The Spartans are also 3-0, but still have games against Ohio State, Michigan, Wisconsin, Purdue, and Penn State. There should be two or three losses in there.
One scenario is similar to last season, with Penn State winning out and taking a spot in the championship game. Then, Illinois would have to beat Ohio State, giving them a head to head win, and have MSU lose to Penn State, Ohio State, and Wisconsin. All in all, not that crazy, but Illinois would have to win out and actually would need two losses from the Gophers as well (Purdue, Northwestern, Wisconsin, Michigan, Iowa).
Any other option needs to have Penn State dropping three games and I just don't see that happening with their schedule.
Illinois is probably headed to a non-BCS bowl this season, but with a strong finish, it could be a New Years Day bowl in Florida, which is better than most years.