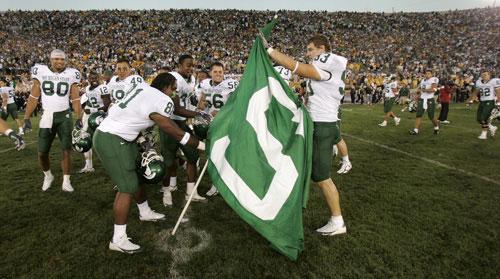 Too many tens. All the Big Ten games will be done by around 6 PM this week. No games in prime time, because there aren't any games worthy of prime time. We'll give the game of the week nod to Wisconsin at Michigan State. The Spartans have fallen to self-inflicted late season doom every year in recent memory and this game against Wisconsin has the potential to send them down the same path. A week after their self-proclaimed epic victory over Michigan, a team with an actual physical presence comes to town. Wisconsin has their own issues though. Just a couple weeks ago the Badgers gave up about 740 yards to Iowa's Shonn Greene. You know that Sparty is going to pound Javon Ringer, the key to the game will be Wisconsin's improvement stopping the run.
Northwestern at Minnesota is the next best game of the week. See what I'm talking about? Actually, this match-up is somewhat intriguing. What are Minnesota and Northwestern doing near the top of the conference? Will the Iowa-beating Northwestern show up or will it be the team that handed Indiana a win last week? How in holy hell is Minnesota near the top of the conference? Check
Lake The Posts
for good info on both teams leading up to the game. Bacher is questionable and Sutton is out for NW, but as we saw last week, the conference is so unpredictable this season.
Illinois will try to bounce back from the loss at Wisconsin last week when they host Iowa in the lone 2:30 start of the week in the Big Ten. Iowa had the week off to prepare for the Illini, but the Hawkeyes struggled with the spread last time they faced it in a loss to Northwestern. The attack the Illini bring is significantly different from Northwestern's but I expect Illinois to move the ball just as well and match or surpass the 38 points the Wildcats pinned on Iowa.
Purdue will try to get its first Big Ten win this year as Michigan comes to town. Quarterback Curtis Painter is questionable and Purdue's backup QB is out, meaning that Justin Siller could see a lot of playing time again this week. Siller was a running back a few weeks ago.
Indiana plays host to Central Michigan. Picks?
God, really?
Central Michigan
28 - Indiana 24
Michigan
20 - Purdue 14
Iowa 31 -
Illinois
42
Northwestern 17 -
Minnesota
24
Wisconsin 27 -
Michigan State
31