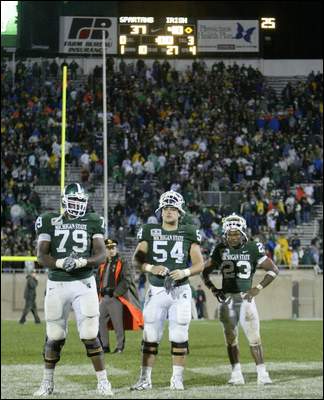 Michigan State will host the game of the week in the Big Ten. The Ohio State Buckeyes will travel to East Lansing for a meeting featuring two of the three Big Ten teams still undefeated in the conference. ESPN isn't coming up with any "
clever
" names for this one, but it has the potential to be a headliner if the Bucks are looking ahead to the Penn State game next weekend. It will be another road test for freshman QB Terrelle Pryor, but the experience he gained at Wisconsin should really help. If you're interested for no other reason, it will at least be worth noting how Javon Ringer performs against a good defense.
Undefeated Penn State hosts Michigan Saturday at 3:30 CST. This looks like the year that the Nittany Lions ditch their nine game losing streak against the Wolverines. No one in the Big Ten has come close to topping PSU thus far and Michigan looks like one of the most unlikely teams to do it. Michigan has had trouble defending the spread and the mobile quarterback this season. Penn State spreads you out and has a mobile quarterback. As day turns to evening, then to night, Penn State's fans can celebrate avoiding a decade of futility against Michigan.
Northwestern and Illinois will both try to bounce back from losses, taking on Purdue and Indiana respectively. Purdue has come off of two tough games in a row against PSU and OSU, and played tough in both games. The Boilers struggled against Central Michigan's spread attack, so look for the Wildcats to move the ball. Illinois should be able to put up a ton of points on Indiana. If Northwestern and Illinois can protect the ball, I think they both win.
Wisconsin will travel to Iowa to try and get its first conference win. These are two old school Big Ten teams smashing their heads into each other. Might be excruciating to watch. How about some picks?
Picks:
Purdue 24 -
Northwestern
31
Wisconsin
24 - Iowa 16
Ohio State
30 - Michigan State 17
Michigan 14 -
Penn State
28
Indiana 17 -
Illinois
42