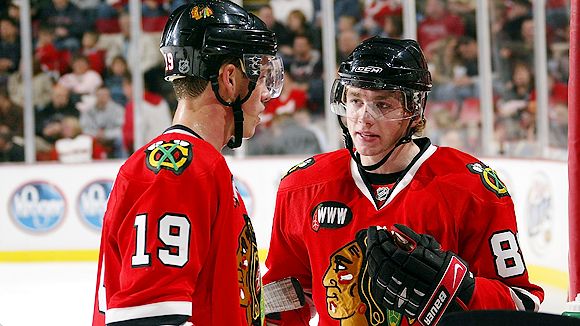 That's right. Hockey. Get used to it. The regular season opener for the Blackhawks is October 10th, so it's time to remind you that hockey really does still exist, and that the Hawks are going to be pretty damn good this year. As these words are hitting the e-paper, the Blackhawks front office is taking care of one of the team's
glaring problems
. Goaltender Nikolai Khabibulin seems to be on his way out of town.
Last season, Chicago would have made the playoffs if it weren't for an abissmal January that included an eight game losing streak and only four wins in the month. After adding youth in recent years, Hawks management hit the free agency pool with a vengeance this year, picking up all-star defenseman Brian Campbell and goaltender Cristobal Huet. Campbell will be great on the power-play and should team with Duncan Keith to form one of the league's best duos on the blue line. Huet comes into a great situation with Bulin leaving town. Youngster Corey Crawford should push Huet just a little, but Cristobal and his sweet name will be the #1 coming into the year.
Almost all of the excitement when it comes to the Blackhawks though focuses on the youth. Kane, Toews, and Sharp are names you will be hearing all season long. Sharp, at 26 is the oldest of the trio, and led the team with 36 goals last season. Kane, 19, led the Hawks in points and assists and just kept improving as the season went on. The 20-year-old Toews battled injury last season, but still managed a
highlight
or two.
Forwards Robert Lang and Jason Williams made their ways out of Chicago in the offseason, so the youngsters will have to carry even more of the load. A resurgence from Martin Havlat wouldn't hurt either. Havlat has not lived up to expectations in his short stint in Chicago and if he gets it together this season, watch out.
The defensemen look strong as well with the addition of Campbell. It should be Campbell and Keith going against teams' top lines, with Seabrook, Barker, Wisniewski, Hendry, and Byfuglien in the mix.
I couldn't go through a Blackhawks preview without mentioning the New Year's Day game at Wrigley Field against the Red Wings. Hockey fan or not, this is a must-see event between two franchises with amazing tradition.
So where do the Blackhawks end up this year? The playoffs of course. Really.