Before Iowa's game with Penn State and while it was playing out, I was going back and forth on the issue of what was best for the Big Ten. At first I thought it would be great for Penn State to run the table and make the National Championship, putting a Big Ten team in for the third straight year. Then I kept hearing how embarrassing it would be to lose three years straight, and while I realize the Nittany Lions could pull the upset, this would probably be the case.
The last two years sucked while everyone was bashing on the conference, with Ohio State and Michigan losing big bowl games two years ago and Ohio State and Illinois getting stomped last year. Sure, Wisconsin, Penn State, and Michigan have eased the pain a bit with postseason wins over the SEC the last two years, but another loss would be unbearable. Especially since the past two years most of the hate has been directed at the Buckeyes, which is fine with me.
So Iowa won and the Big Ten was eliminated from the National Championship picture. But did this really give the conference a chance at postseason success?
It seems like knocking everyone down a peg in the bowl games would give all the teams a better shot at winning, but based on BCS rules and the ugly football being played in the Big East and ACC, things may shake out exactly the same. Since only two teams from each conference can make it to the BCS, we're probably looking at an SEC/Big 12 BCS Championship game, so each of those conferences get one more team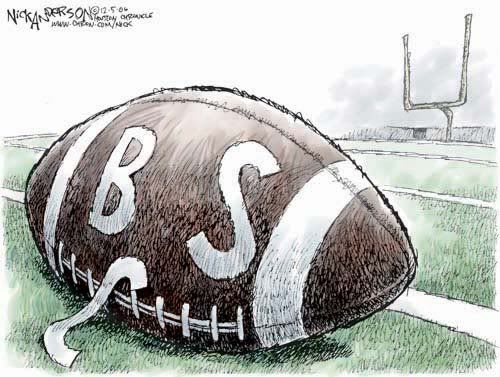 . Then you take the ACC, Big East, Big Ten, and Pac Ten champs and you have two spots left. Unless Oregon State wins out and wins the Pac Ten, they don't get a team other than USC, while the ACC and Big East have almost no chance to get an at-large. That leaves three teams going for two spots: Boise State, Utah, and Ohio State.
Bosie State should win out and Utah has a tough game against BYU to end the year. Even if both teams run the table, I think Ohio State gets an at-large berth. The Buckeye fans travel as well as any in the country (they all drive semis) and will be a bigger draw for any of the bowls than Utah or Boise State.
So really, if Ohio State gets an at-large bid nothing changes. Penn State would go to the Rose Bowl, with Ohio State playing a major conference opponent like Texas, Oklahoma, or Alabama in a BCS bowl. Michigan State would go to the Capital One Bowl and draw someone like LSU or Georgia. Slaughter.
This all leads to the conclusion that Ohio State needs to drop a game in the last two weeks. Your play Illinois.