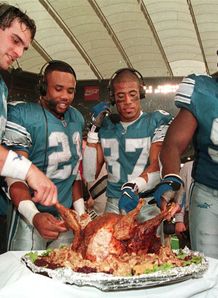 Naturally, this will be all about the football extravaganza taking place today. Let's not waste any time.
Tennessee @ Detroit, 11:30 CT
The Titans are coming off their only loss of the season heading into Detroit on Thanksgiving. The Lions are coming off 11 straight losses and have one huge advantage on Tennessee. The Lions have ample experience when it comes to losing. Who knows how the Titans will bounce back from their first loss of the year? We know how the Lions will respond to their 11th loss: with loss number 12, obviously. As a Lions fan, the fun isn't in the destination, because we know how these things end; it's all about the journey. Hopefully it's not just your typical blowout, rather a gut-wrenching late comeback fueled by something really exciting, like Culpepper lining up behind the right tackle and the center snapping the ball through the endzone. The Lions know drama.
Seattle @ Dallas, 3:30

You can taste the anticipation of Julius Jones' return to Dallas! Well, maybe it's just that crazy casserole that doesn't look like it belongs at the table. You know what I'm talking about. There is always one spoonful gone because the husband of whatever crazy relative made it is scared into trying some. Anyway, this shouldn't be much of a game either, with Romo returning to form against a suspect pass defense. If that GHB in the turkey doesn't knock you out, this one should have you snoozing by mid-third quarter.
Arizona @ Philadelphia, 7:15

Finally a good game to watch on Thanksgiving...errr, for 10% of the country to watch. If by some chance you get to take this game in, consider yourself lucky, it's a great match-up. A lot of the talk leading up to the game is about McNabb and his benching last week. Lost among this babble of things no one really cares about is the issue of whether Warner can bounce back after a tough game against the Giants Sunday in which he took some hits. The Cards can clinch the division with a win. If McNabb can perform well and the Eagles get Westbrook going, this could turn into a real shootout, which again, no one gets to see. Dear NFL Network, drop dead.