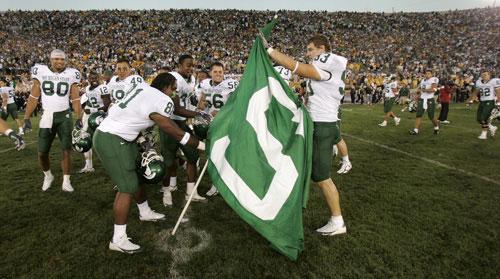 College football season is approaching and for the next couple of weeks I'll be giving you some quick previews of the Big Ten. All ten....ummm eleven teams will be featured. Today it's the Spartans of Michigan State.
Reading various previews of the Big Ten season, the opinion seems to be that the Spartans could be the surprise team of the conference. They are rumored to be more mentally strong than Sparty teams of the past and ready to turn the corner.
A 6-6 season in Dantonio's debut, in which all six losses came by a touchdown or less, shows MSU is playing well, but not necessarily mentally tough. Two horrible losses against Iowa and Northwestern and signature fourth quarter chokes against Wisconsin and Michigan don't give me much confidence in MSU's rumored title contender status.
The Spartans lose Devin Thomas, Kellen Davis, and Jehuu Caulcrick, but return quarterback Brian Hoyer and star running back Javon Ringer. Ringer is a solid back who can hit the big play, but it remains to be seen how he will hold up as the feature back without an established pounder like Caulcrick taking carries. Look out for stud freshman Fred Smith this year, he has the size and speed to contribute early.
Defensively, MSU has very little of note, but Dantonio's committment to toughness improved the D last year and it should do enough to keep the Spartans in games. It's just a matter of winning some of these close ones.
We should get a good idea of where this team is at in the first week when they travel to Cal. The Big Ten schedule starts easily enough with Indiana, Iowa, and Northwestern, but four of the next five are against the top of the conference. With no match-up against Illinois and an easy run of games after Cal, the Spartans should be bowl-bound this season, but they'll be disappointed with anything short of a New Year's Day appearance.
**This was written by StevieY19, I am just posting it for him because he's on vacation.